+
Biographie
Christiana Visentin est née à Rome. Fille du pianiste compositeur Alberto Visentin et de l'actrice Cristina Gajoni, elle est aussi la petite fille de l'artiste-peintre milanais Adriano Gajoni. Très tôt elle fréquente l'atelier de son grand-père à Milan, qui, après sa mort, avait été repris par ses élèves, elle suit des cours de dessin et peinture à l'académie de Montparnasse à Paris. Adolescente, elle commence une formation de danse et comédie, fascinée par la vocation de sa mère comédienne et étudie en même temps la musique classique et le piano comme son père. Alors qu'une carrière dans le monde du spectacle aurait été pour elle le choix le plus évident,-elle a été comédienne pendant ses premières années- ce sont le dessin et la peinture qui se sont imposés finalement dans sa vie comme la voie la plus évidente .
Elle travaille actuellement dans son atelier parisien.
Son attirance pour les grands artistes, notamment ceux de la scène l'ont portée sur un projet artistique dédié à Michael Jackson, qui fera l'objet de sa prochaine exposition à Paris.
Christiana Visentin was born in Rome. Daughter of pianist-composer Alberto Visentin and actress Cristina Gajoni, she is also the granddaughter of Milanese artist-painter Adriano Gajoni. Very early she attended her grandfather's workshop in Milan, which, after her death, had been retaliated by her students, she took drawing and painting lessons at the Montparnasse Academy in Paris. As a teenager, she began training in dance and comedy, fascinated by the vocation of her actress mother and at the same time studied classical music and the piano like her father. While a career in the world of entertainment would have been the most obvious choice for her, - she was an actress during her first years - it was drawing and painting that ultimately imposed themselves in her life as the most obvious. She is currently working in her Paris workshop. His attraction for great artists, especially those of the scene focused on an artistic project dedicated to Michael Jackson, which will be the subject of his next exhibition in Paris.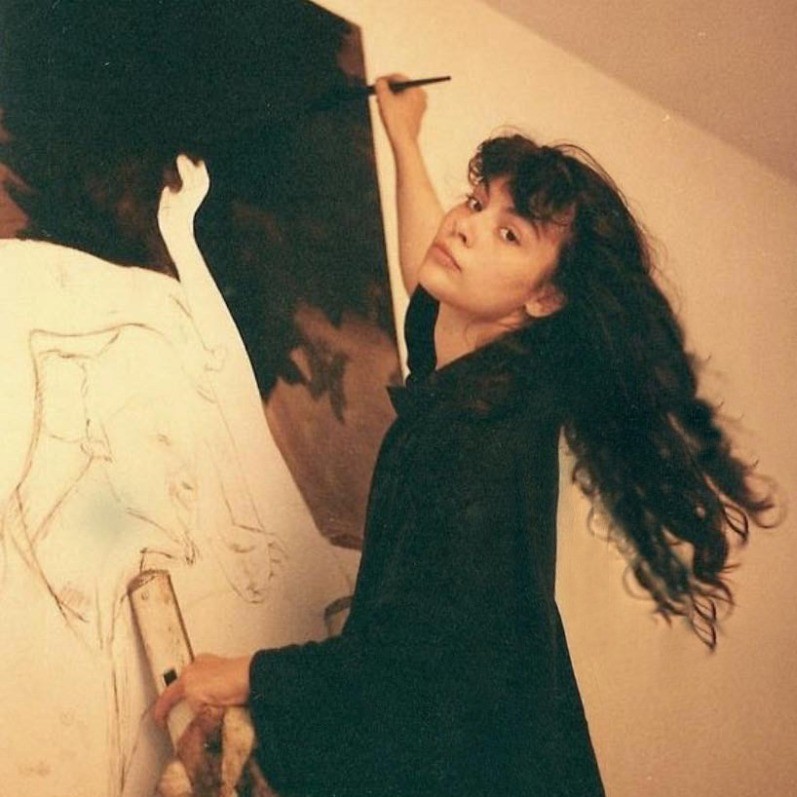 L'artiste au travail